No one understands your business like you. And us.
With a robust suite of receivables services, we can help you boost profits and reduce accounting time.
Competitive Rates
Expedited Processes
ACH Debit Origination
It's the simple and cost-effective payment solution.
ACH is the electronic network for financial transactions in the United States. With ACH Debit Origination, your business can easily automate and expedite the collection of your receivables, streamline your accounts and reduce your risk of fraud.
Collect with ACH Debits to generate recurring billings or collections from your customers for insurance premiums, mortgage or installment loan payments, rent or lease payments, membership dues and charitable contributions.
Benefits
Control timing of payments
Increase productivity in debit transaction processing
Eliminate trips to the bank
Same-Day ACH Debits became effective September 15, 2017. Most ACH payments process on the next business day. Under the new rule, any ACH debit can have same-day capability. Only international (IATs) and high-value transactions above $1,000,000 are not eligible. All Financial Institutions will be required to receive and process same-day ACH debits.
ACH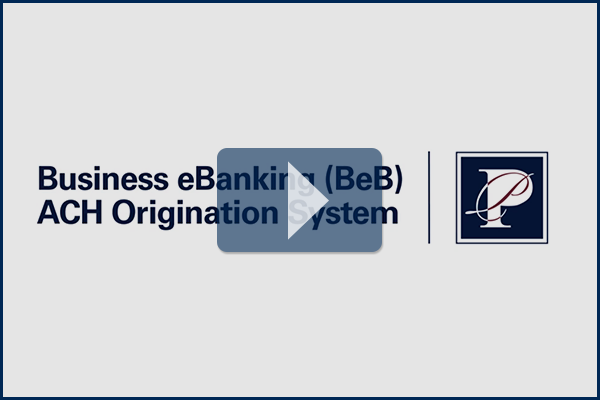 Remote Deposit Capture
No need to wait for a trip to the bank to get that money in your account.
Deposit checks electronically anytime right from your office. Simply scan checks at your business location and transmit them securely to the bank with a couple of clicks.
Benefits
Gain faster access to accounts receivable funds
Enhanced security and fraud protections
Improved research capabilities
Consolidate deposits from multiple locations
Lockbox Services
Enjoy faster access to receivables while eliminating time-consuming tasks.
Choose from partially or fully outsourcing mail handling, sorting, and imaging of incoming payments and coupons. Use your Pacific Premier Business Online Banking or our fully integrated option to view exceptions, images, and reporting. Payments are deposited to your account daily.
Benefits
Single access through our Business Online Banking
Tailored remittance processing that conforms to your unique needs
Expedited account reconciliation with electronic reporting
Reduced workload and time needed to sort mail
Reduced float time on check payments
Our Comprehensive Lockbox Solutions
Remote Lockbox
Our Remote Lockbox solution gives you control over mail processing and image scanning, outsourcing data capturing to the Bank.
Remote check deposits
Simplified pricing model
Online image archive portal
Same-day reporting
Lockbox Premier
Our enhanced Lockbox Premier solution encompasses all of the Remote Lockbox services, with the ability to fully outsource remittance processing.
Bank-managed PO Box
Outsourced check/image capture
Electronic check conversion
Multiple location processing
Exception decisioning module
Digital Biller
A Fully Integrated Bill Presentment and Payment Solution–Save Time, Lower Costs, and Receive Payments Faster
With our tailored Digital Biller solution, you can reduce manual business processes, improve cash flow, and scale operations. Through an easy-to-use online portal, view payment information and streamline processes, including:
Digitally upload bill or invoice data
Download daily settlement and reconciliation files or set them up to be received automatically
Reverse and refund payments or process payments on behalf of your customer
Generate detailed payment reports, such as AR aging, scheduled payments, and payment history
Choose from three Direct Biller solutions that can be tailored to your needs: Digital Biller Lite, Digital Biller Plus, and Digital Biller Premier
Discover how Digital Biller can enhance your operations with customizable options and configurations that fit your unique business needs.
Merchant Services
Simplified payments, robust technology, and easy-to-use tools.
Access efficient and streamlined payment processing solutions customized to your unique business needs. Merchant Services allows your business to accept a variety of credit and debit cards as payment. From the largest retailers in the U.S. to the coffee shop down the street, we can help reduce risk and boost sales, so you can focus more on your customers.
Payment solutions include:
Credit & Debit Card Acceptance
Payment Devices
eCommerce
Mobile Payment
Online Reporting and Data Analytics
EMV/Chip Card Processing
Security Tools
Cash Vault
Protect your deposits. Mitigate risk. Save time.
If your business requires cash and deposit pickups, an armored cash vault is a safe and secure solution for the transport of your assets to our processing location. With Cash Vault Services, your currency and coin needs can be fulfilled easily through phone or via safe and secure website order deliveries.
Cash Vault Services are ideal for businesses that handle and order a lot of cash such as gas stations, laundromats, restaurants and more. Keep you and your employees safe and secure with Cash Vault Services.
Benefits
Protect the safety of your employees and minimize risk by eliminating trips to the bank
Peace of mind with added security of armored carrier of your cash and securely processed deposits
Create efficiencies with regular pick up times or schedule pickups as needed