Get money where it needs to go — quickly, accurately and efficiently.
ACH Credit Origination
An easy way to streamline and organize your accounts.
ACH is the electronic network for financial transactions in the United States. Optimize your cash flow and forecasting by tapping into the power of the Automated Clearing House (ACH). With ACH Credit Origination, you can make next day payments to vendors, establish recurring payments for payroll direct deposit, and set up dividend payments, interest payments and even Federal and State tax payments.
It's easy to set up your business to take full advantage of all the benefits of using ACH. We can show you how.
Benefits
Eliminate trips to the bank
Reduce fraud from checks
Control timing of payments
Increase productivity in credit transaction processing
Same-Day ACH credit transactions became effective September 23, 2016. Most ACH payments process on the next business day. Under the new rule, any ACH credit can have same-day capability. Only international (IATs) and high-value transactions above $1,000,000 are not eligible. All Financial Institutions are required to receive and process same-day ACH credits.
ACH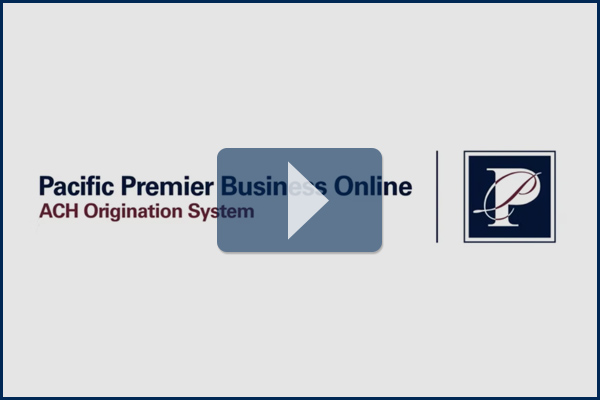 Corporate Cards
Commercial Edition® Visa® Card
The Commercial Edition® Visa® Card facilitates your travel, entertainment, and purchasing spending while maintaining policy controls. Maximize cash flow and gain better insight into your spending with advanced reporting tools. The card also allows your company to minimize risk with multiple payment and statement options, and the ability to establish individual credit limits.
---
Purchasing Edition® Visa® Card
The Purchasing Edition® Visa® Card allows you to receive goods faster, negotiate discounts with suppliers, and easily manage company billing accounts. Optimize your cash flow, reduce purchasing costs, and gain better insight into your spending with advanced reporting tools.
To learn more and apply, contact one of our Treasury Management Consultants at 888.414.0515.
Online Bill Payment
Automated and Convenient Bill Payment
Make payments and stay on top of your finances with Bill Payment. Easily schedule one-time or recurring payments online in minutes from anywhere, anytime. Have the ability to control the date and time your payment is sent, so your bills are always paid on time. That's one less thing to worry about.
Benefits
Simply manage and initiate one-time, future, and recurring payments
Make payments to anyone, anytime, anywhere in the U.S
Save time and money on postage cost from writing and mailing paper checks
Wire Transfers
Move funds quickly to another business, person, entity or recipient.
With Wire Transfers, small to large businesses can initiate same-day payments via Pacific Premier BusinessSM Online through domestic and international channels securely and conveniently, with either one-time wires or by creating repetitive wire templates. International wires can also be sent in U.S. dollars or in the foreign currency of the recipient. You can easily make same-day wire transfer payments (domestic only) or schedule them for a future date.
Benefits
Most domestic wire transfer funds are credited upon receipt and immediately available
Security measures including tokens, dual control, initiation, and approvals
Timely, detailed information reporting and notification alerts provide an added layer of convenience
Wire Transfers