Your trust in Pacific Premier Bank to meet your financial needs is well-founded. We have stood out as a pillar of strength for many years because we are focused on prudent risk management and always being there for our clients. We are well-prepared for the current market dynamics, and are committed to continuing to serve as a partner of strength for our clients and communities.
In light of recent industry developments, you may have questions regarding the banking industry generally, and Pacific Premier Bank, specifically. Below is some information regarding Pacific Premier to help you understand our strength.
We repeatedly have been ranked by various organizations as one of the best banks in America.
We serve a diverse group of small- and mid-sized business clients and entrepreneurs across a multitude of industries and geographies. Importantly, we do not engage in cryptocurrency, digital assets or venture capital banking activities. We have a long-standing history of prudently serving small- and middle-market businesses and their owners, as well as consumers in our communities.
We have some of the highest levels of capital and liquidity compared to our competitors. As of December 31, 2022:

Our capital levels qualify us as well-capitalized and exceed the majority of our peers, which comprise the 50 largest regional U.S. banks. We rank in the top 20% of those peers.
Our net interest margin, a driver of our profitability, has consistently outperformed those same peers. We rank in the top 25% of peer banks.
We have a large amount of cash and liquid reserves, and stand ready to meet our clients' needs.
Although unprecedented and rapidly rising interest rates have impacted the value of the industry's securities portfolio, we have purposefully retained high levels of capital to serve our clients. We remain one of the strongest among our peers.
Our strength and readiness for this period of uncertainty is not an accident. We manage Pacific Premier Bank with discipline and thoughtful planning to be prepared for tough times. We are here to support you and your business, and stand ready to take advantage of the opportunities that lie ahead for us. Please do not hesitate to reach out to your Relationship Banker should you have any questions regarding Pacific Premier Bank and our readiness to continue to deliver excellent banking products and services to our clients and communities.
Thank you for your commitment to Pacific Premier Bank and for being a valued client.
Sincerely,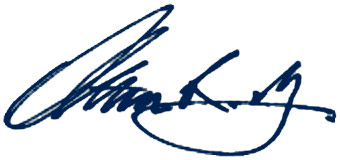 Steven R. Gardner
Chairman & CEO