It's everyone's responsibility to ensure the health and well-being of our future. At Pacific Premier Bank, we are proactively contributing to the collective global transition to a greener economy.
To learn more about our Sustainability Journey, please review the latest Corporate Social Responsibility Report.
Our Sustainability Strategy
We are integrating environmental sustainability throughout our operations, products, services, and culture to drive efficiencies and promote sensible use of resources. At the same time, we're keeping our workplaces healthy and safe.
Our approach to sustainability is guided by our Environmental Sustainability Policy, which outlines our pledge to protect the environment and address climate change.
Climate Risk
We recognize the impact that natural disasters resulting from climate change may have on our clients and communities. Effectively managing these risks requires clearly defined roles and responsibilities. We are establishing an effective structure for this purpose.
For additional information, please refer to our 2021 Corporate Social Responsibility Report.
Metrics and Targets
Our approach to measuring greenhouse gas emissions data helps us manage our energy and resources efficiently, while identifying opportunities to reduce our impact.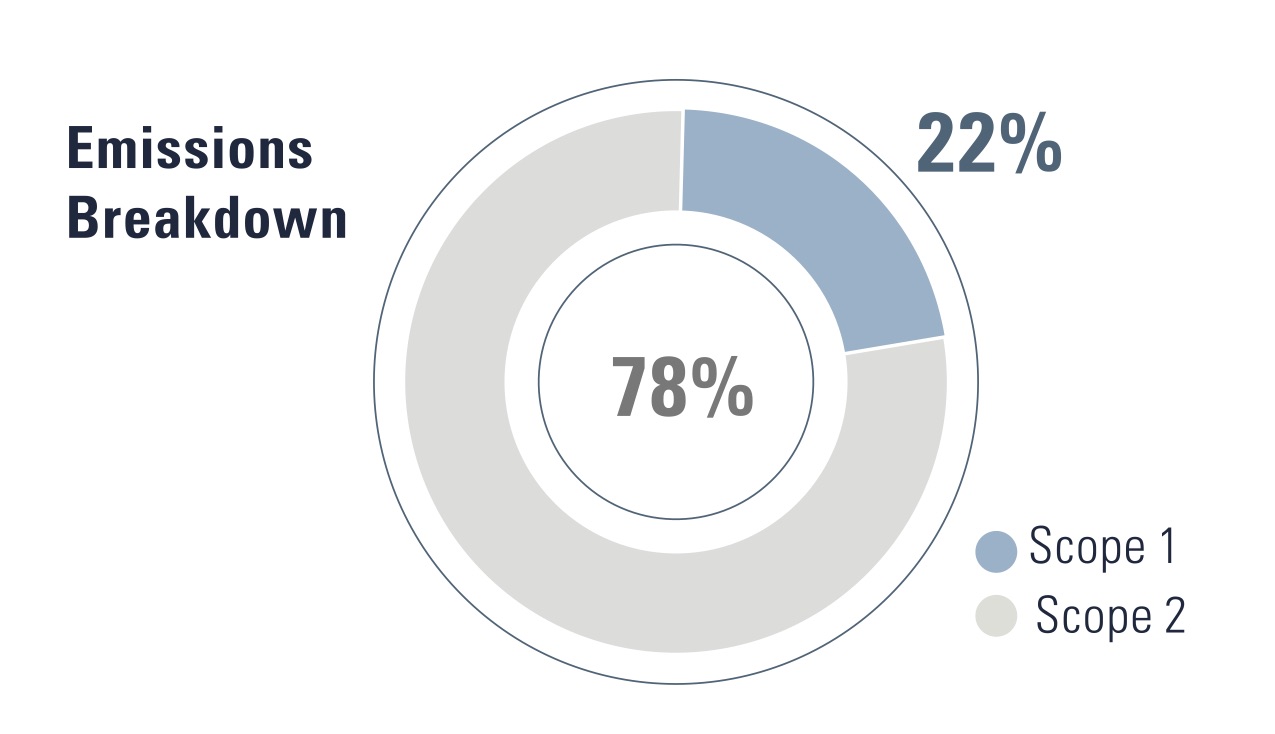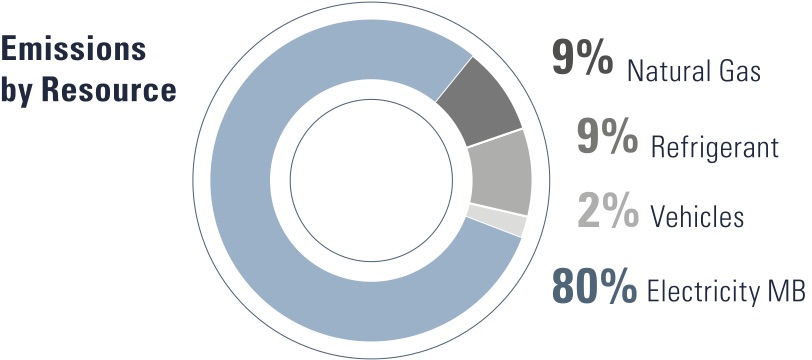 GHG EMISSIONS BREAKDOWN
Scope 1 emissions sources include: Natural Gas, Refrigerants (HVAC systems), Fleet Vehicles
Scope 2 emissions sources include: Purchased Electricity
2020 GHG EMISSIONS (metc02e)
RESOURCE
CONSUMPTION
UNIT
Location-Based
Market-Based
Mobile Gasoline
2,845
Gallons
25
25
Mobile Diesel
770
Gallons
8
8
Natural Gas
3,666
MMBtu
195
195
Refrigerants2
138
kg
197
197
Electricity
7,250,727
kWh
1,805
1,652
Water
8,663,160
Gallons
-
-
Total Scope 1 Emissions
425
425
Total Scope 2 Emissions
1,805
1,652
Scope Totals
2,230
2,077
1Refrigerant values are estimated based on intensity factors developed by US EPA, applied to Pacific Premier facilities based on floor area of conditioned space.
Minimizing our Footprint
We take pride in supporting resource preservation through recycling, waste management, and responsible use of energy.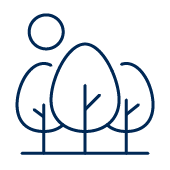 Trees
5,606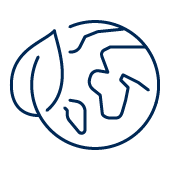 Pounds of Wood
33,656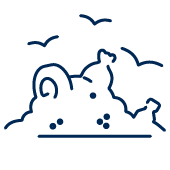 Cubic Yards of Landfill
971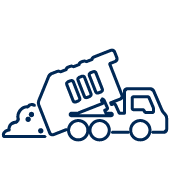 Pounds of Waste
653,724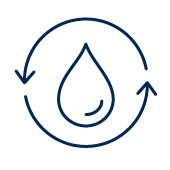 Gallons of Water
2,365,454
Approximately 46% of our clients opted out of receiving paper statements.
40% of our total square footage was LEEDTM certified or equivalent, including six branch locations and seven loan production and administrative offices.
Almost 30% of our employees based in Denver, Colorado use public transit to get to the office.
Creating a Culture of Environmental Awareness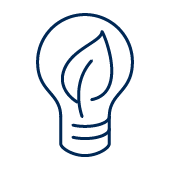 Educate
Employees about sustainability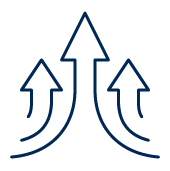 Increase
Internal awareness of our commitment to sustainability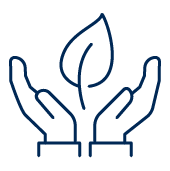 Create
Simple ways for employees to get involved in sustainability efforts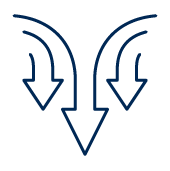 Reduce
Environmental footprint
RAISING AWARENESS
In 2021, we conducted our first Environmental Awareness Survey to gauge the level of employee interest and engagement around sustainability.
Some of the highlights include:
54% response rate
61% of employees were familiar with Pacific Premier environmental efforts
63% of employees identified environmental issues as extremely important
44% of employees viewed environmental sustainability as a key concern
Environmental Volunteerism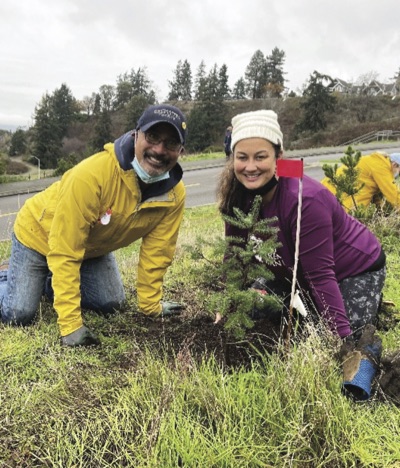 Pacific Premier Bank employees joined a collaborative effort between the City of Shoreline, government agencies, nonprofit organizations, educational institutions, and the Shoreline community to build upon existing forest restoration efforts to establish a city-wide community-based stewardship program supporting long-term restoration and maintenance of Shoreline's parks and natural areas.
The Green Shoreline Partnership has the goal to restore 240 acres of Shoreline's forested parks and natural areas by 2039.
Healthy forested parks and greenspaces have the power to strengthen neighborhoods, provide safe access to nature, offer numerous valuable environmental benefits, and play a critical role in supporting salmon and a healthy Puget Sound. Without a coordinated effort to restore and care for our forests, we are at risk of losing many benefits these forests and natural areas provide.
Investing in Sustainable Communities
We have a longstanding record of investing our time and capital to help strengthen our communities and support organizations and initiatives that serve the disadvantaged.
Our commitment to our communities includes supporting efforts to resolve climate-related problems that disproportionately affect low-income and demographically diverse populations.
OUR OUTSTANDING COMMITMENTS INCLUDE:
$7M Energy-efficient multi-family properties in Coachella, San Juan Capistrano, and Fullerton, California
$10M Green affordable housing projects in Sacramento, Berkeley, Sunnyvale, Sylmar, Novato, Goleta, and Point Reyes Station, California
$10M Eco-friendly updates, including energy-efficient appliances, greywater recycling system, and other modifications compliant with the Enterprise Green Communities criteria across six different properties in Riverside County, California
$25M Affordable housing projects with energy-efficient appliances across multiple states
$15M New construction of a property equipped with solar energy system in Reseda; California Rehabilitation of a property to meet EnergyStar and LED criteria in Huntington Beach, California
$30M Investment for construction projects using sustainably sourced lumber and designed to create affordable housing in South Los Angeles, California