Our partnerships with the NFL, NHL, and NCAA enable teams to invest in local and regional communities while also helping us discover new business and community volunteer opportunities.
Los Angeles Chargers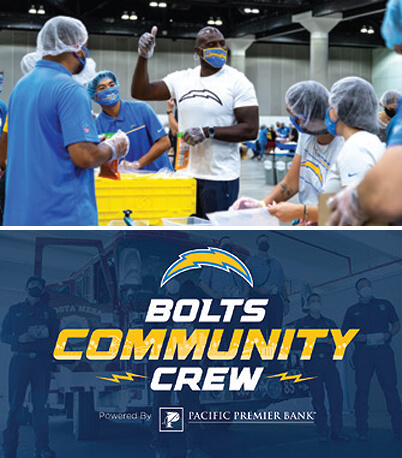 Chargers Bolts Community Crew Connects Fans with Volunteer Opportunities
The Los Angeles Chargers and Pacific Premier Bank have teamed up to launch the Bolts Community Crew, powered by Pacific Premier Bank–a volunteer platform aimed at connecting Chargers fans to volunteer opportunities.
Hundreds of thank-you cards from the Bolts Community Crew virtual campaign were written and delivered to frontline workers at Hoag Hospital.
Over 1,100 lbs. of trash was removed from the LA River and its watershed during a virtual month-long volunteer opportunity with Friends of the LA River to mark Earth Day 2021.
Nearly 250,000 non-perishable food kits were packed on the National Day of Service in partnership with the Annual 9/11 Meal Pack Day in Los Angeles.
170 bicycles and helmets were assembled by the Bolts Community Crew and later given away during the holiday season to underserved students in Los Angeles.
The Small Business Football Experience awarded small businesses with a Chargers home game suite experience for making a positive impact on their community.
Anaheim Ducks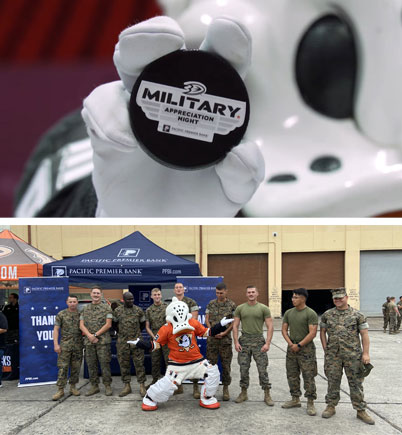 Military Appreciation
For many years, Pacific Premier Bank has partnered with the Anaheim Ducks to salute military personnel in a Salute to Those Who Serve presentation at every Ducks home game. We also teamed up as the presenting sponsor of the Ducks Military Appreciation Night to help honor our military. It was our privilege to continue this tradition in 2021. Thank you to everyone who has served our country.
PAC-12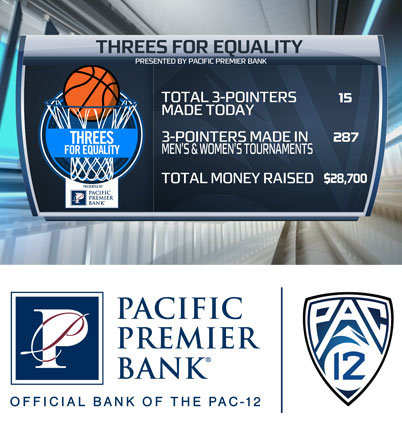 Pacific Premier Partners with the Pac-12
Pacific Premier Bank is the Official Bank of the Pac-12 Conference. Comprising 12 leading universities, the conference aims to develop the next generation of student-athlete leaders. Pacific Premier sponsors two Pac-12 programs that help promote social justice.
As part of "Touchdowns for Equality," Pacific Premier donated $100 to organizations focused on social justice for every touchdown scored by a Pac-12 football team during the 2021 season. With "Threes for Equality," the Bank donated $100 for every three-pointer made during the 2021 Pac-12 men's and women's basketball tournaments. In all, Pacific Premer's contributions totaled $78,400.