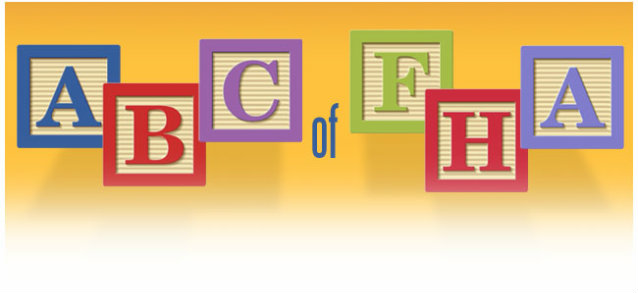 The ABC's of FHA
In 1934, the U.S. Congress created the Federal Housing Administration, more commonly referred to by its initials FHA. The organization was created to improve housing standards and conditions, provide an adequate home financing system through insurance of mortgage loans, and to stabilize the mortgage market. While those goals remain intact, a lot has changed since 1934.
Today's FHA is part of the Department of Housing and Urban Development's (also known as HUD) Office of Housing and carries a wide range of functions. Most importantly to those of us in the condominium and HOA section of the housing market is the fact the FHA writes the guidelines which lenders must follow if they wish to offer FHA backed mortgages. This is tremendously important in the wake of the banking crisis that effectively ended Freddie Mac and Fannie Mae backed loans. The role of the FHA has never been more important to mortgage seekers and those wishing to refinance their existing mortgages.
While a great deal has been written about the FHA, the best source of official FHA information is the HUD website which you will find at http://portal.hud.gov/hudportal/HUD. This is an official government website and, as such, it is a chock full of facts and statistics. It is a good resource, albeit not a very exciting one.
How this new age of FHA will affect your condominium or HOA will vary from association to association. For most condominiums, FHA certification for the entire condominium complex will be necessary for individual unit owners to obtain FHA-backed mortgages, refinancing packages, home equity lines of credit (HELOCs) and second mortgages. Condominiums that cannot or choose not to achieve FHA certification will likely find buying, selling, and refinancing of the units within their condominium association quite challenging as only buyers who do not require an FHA-backed mortgage will be able to purchase units within their association.
The Community Associations Institution publishes a "Mortgage Matters" section on their website which is particularly useful in keeping up with FHA changes and how they affect community associations. The website address is http://www.caionline.org/govt/MortgageMatters/FHA/Pages/default.aspx. Here you will find an array of useful articles and timely information. There are guidelines for making and keeping your condominium association eligible for FHA-approved mortgages.
Like it or not, FHA approval for mortgages to buyers and owners of condominium units is likely here to stay. What's worse is that the rules of qualification are likely to get tougher for condominium associations in the years to come. Having a cursory knowledge of the subject matter is important for all HOA professionals. Learning the ABC's of FHA is a good start.